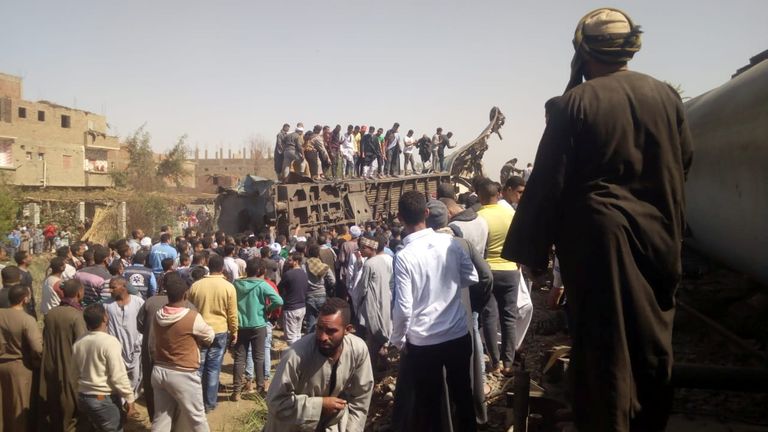 At least 32 people have been killed after two trains collided close to the Nile-side town of Tahta, around 230 miles south of Cairo.
The country's railway authority said emergency brakes in the first train were triggered by "unknown individuals", causing the train to stop.
The second train then crashed into the first from behind, causing two carriages to come off the tracks.
Dozens of ambulances were sent to the scene and local media photos showed flipped carriages with passengers trapped inside.
Egypt's health ministry said 108 people were injured in the collision in the province of Sohag.
The public prosecutor's office said it had ordered an investigation into the collision.
Egypt's railways have a history of bad maintenance and poor management and three years ago, President Abdel-Fattah al-Sissi said the equivalent of around £10.2bn was needed to overhaul the rundown network.
After Friday's collision, he wrote on Twitter that he had "closely followed" news of the accident, adding: "The pain in our hearts today will only increase our determination to put an end to this type of disaster
"I have directed the prime minister and all agencies concerned to be present at the site of the accident and to follow up continuously and to keep me informed of all developments and reports related to the situation throughout the moment."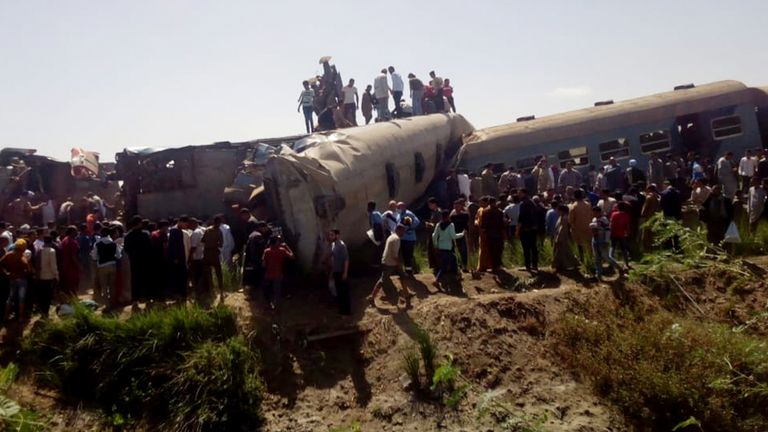 He said there would be penalties for "everyone who caused this painful accident by negligence or corruption or something similar, without exception, delay or procrastination" and promised his best efforts to provide "adequate compensation to the families of the martyrs and victims".
There were 1,793 accidents in the country during 2017, according to the latest official figures available.
The deadliest was in 2002, when more than 300 people died after a fire in a train travelling south from Cairo.
In 2018, the chief of the country's railways was fired after a train derailed near the southern city of Aswan, injuring six people.
The same year, a passenger train and a freight train collided, killing at least 12 people.
In 2017, two passenger trains collided just outside the port city of Alexandria, killing 43 people.
And a year earlier, two commuter trains collided near Cairo, killing at least 51 people.

Should you block ads? Adblocker
Read this on Sky News
Others are reading