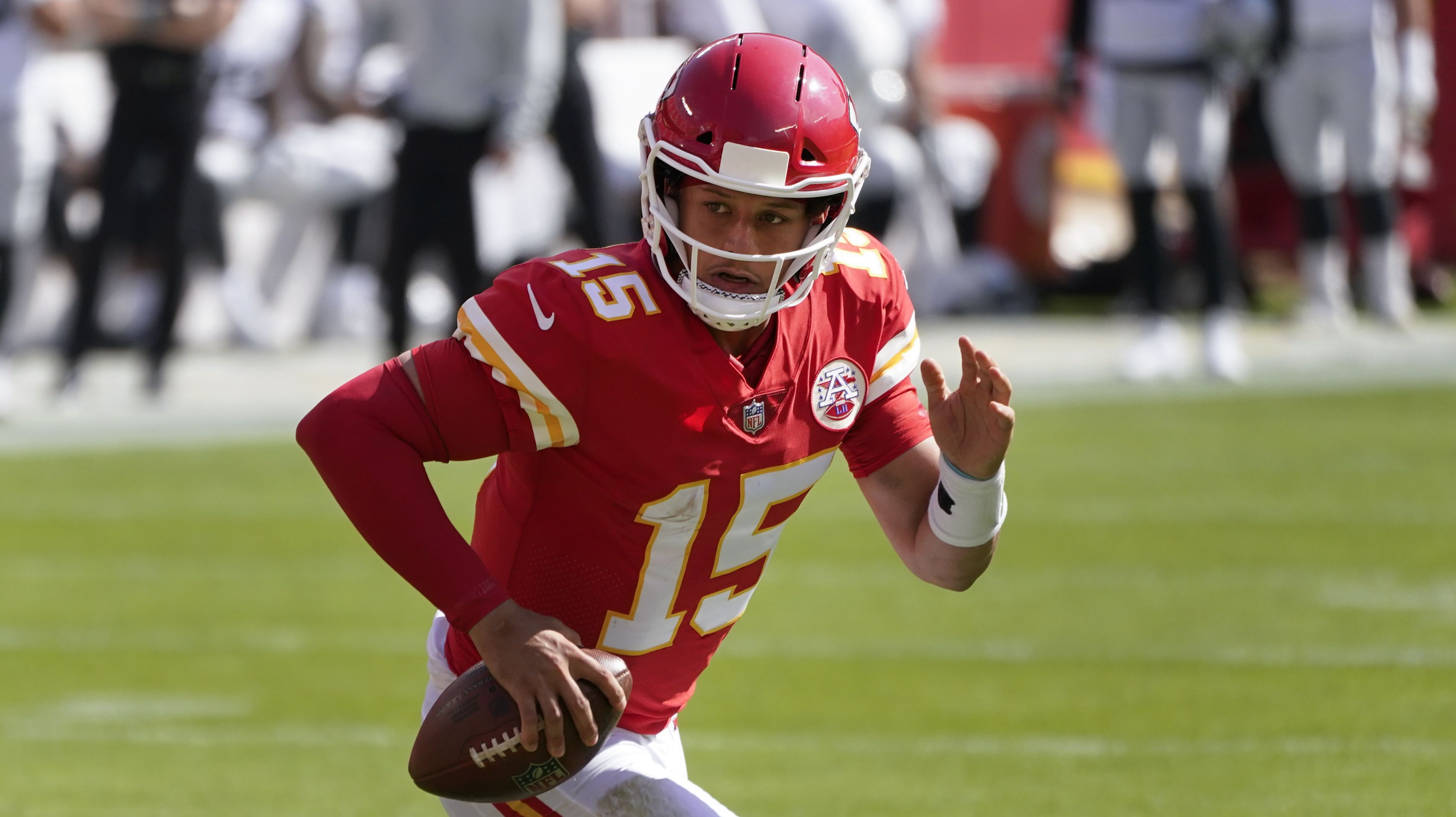 Each week of the season brings with it a new set of questions. Here, we'll attempt to lay out five of the most pressing in the NFL. The answers to those will reveal deeper truths about how the rest of the story of the 2020 season will unfold. We'll find that these revelations will have a lasting impact on not just fantasy managers, but the league as a whole.
1 - Which defense steps up in Kansas City vs. Buffalo?
When two of the best offenses of the 2020 season square off in Week 6, your attention should actually be focused on the other side of the ball. How the Chiefs and Bills defenses perform in this matchup will tell us much more about who will win this game and how to project these teams going forward.
On balance, the Chiefs' defense has been the far superior unit this year. While they might not put much stock in their run stop unit, Kansas City ranks second as a pass defense in Football Outsiders' DVOA. They create a ton of havoc, recording the fourth-highest pressure rate in the NFL. That said, they're coming off their worst performance of the season after letting Derek Carr and the Raiders drop deep heaters on them last Sunday.
Josh Allen, Stefon Diggs, and the other passing game assets in Buffalo can certainly rip through those same holes Carr and Henry Ruggs found.
In Buffalo, they're fresh off getting shredded by the Titans on Tuesday night to the tune of five touchdowns. The stop unit has played well below the standard set during the Sean McDermott era. After two pristine runs in 2018 and 2019, Buffalo ranks 24th in passing yards allowed and 31st in rushing success rate allowed.
[Week 6 Fantasy Rankings: QBs | RBs | WRs | TEs | FLEX | DST | Kickers]
The Raiders put a good blueprint together for how you can at least keep the scoring onslaught of Patrick Mahomes and company at bay. Las Vegas worked to get pressure with their front four, knowing that sending extra rushers at Mahomes is only asking for him to take advantage of the extra windows. He faced the blitz on just two dropbacks, the lowest of any Week 5 starting quarterback.
In order for the Bills to follow that script, they'll need to be introspective. The team sports the fourth-highest blitz rate (40.6 percent) but it hasn't helped them much; Buffalo is bottom-10 in pressures (37). If Buffalo rolls out the same old defense they have all year, Mahomes will shred them.
Once Mahomes and the passing game get an early lead, just forget about it. It's over.
Playing with a scoreboard advantage just brings out the best in the Chiefs offense. If they're able to operate with that lead, they can follow the same playbook of all the other teams who have shredded Buffalo's run defense. Speaking of which, the Chiefs just signed former All-Pro running back Le'Veon Bell but with COVID-19 testing restrictions, he isn't able to suit up for them in Week 6. That leaves rookie Clyde Edwards-Helaire in his normal workhorse role for one last week. Given that he has bankable touchdown regression coming his way, it's a good time to bank on him hitting a top-five ceiling performance.
2 - Who is the next surprise rookie WR to emerge?
If there's one thing I got wrong this year (fine — there was more than one thing) it was the development pace for rookie wide receivers. You'd think in a truncated offseason, these guys would come on slower.
Wrong.
Several rookie receivers have netted dividends for their teams already. Frankly, it feels like a new one emerges as a key piece each week. CeeDee Lamb, Justin Jefferson, and Tee Higgins have all had their moments — and now Chase Claypool is out here scoring four touchdowns.
For our purposes, we want to know: Who's next?
A strong candidate is Jaguars receiver, Laviska Shenault Jr.
It's not as if Shenault has done nothing in 2020. He trails only Lamb and Jefferson in yards among rookie receivers and has been a factor in the ground game. Still, it's been more steady contributions rather than a big breakout game. Several analysts touted him heading into the Jaguars TNF loss to Miami but after a few splash plays to start, he faded to a 34-total-yardage outing.
Week 6 sets up another opportunity for Shenault to shine. The Jaguars will welcome a Detroit defense that's 28th in yards per play allowed. Shenault is coming off a season-high in both routes run (37) and targets (eight) last week. He should draw a start this week with D.J. Chark likely on the shelf due to an ankle injury.
This could be the week Shenault joins guys like Claypool and Henry Ruggs as recent breakout rookies.
3 - Who is this week's Brandin Cooks?
Last week Brandin Cooks fit the profile of a guy who was still completely involved in his offense despite his production coming to a screeching halt. He had run a route on over 80 percent of Deshaun Watson's dropbacks but was coming off a zero-spot against Minnesota. If you ignored that and just chased the playing time, you were rewarded with a 161-yard, 1-touchdown line.
Let's spin forward to look at another player who has been painfully quiet but still playing a ton.
Lions receiver Marvin Jones has caught all of 12 passes so far this season. Despite No. 1 receiver Kenny Golladay missing time to start 2020, Jones hasn't popped up for a big game. Nevertheless, he's been out there, running a route on a whopping 96 percent of Matthew Stafford's 149 dropbacks. So, as long as Jones isn't completely cooked at 30 years old, he should drop a hammer in the stat sheet soon enough.
Detroit isn't pushing the ball downfield as much as they were last year, as Stafford ranks 22nd in completed air yards per game (131), but you can argue that in a good matchup this is still a solid passing environment. A date in Jacksonville would certainly qualify — the Jags rank dead last in passing success rate allowed.
4 - Should we keep rolling with the Panthers offense?
Rather quietly, the Panthers have been one of the surprise teams of 2020. At 3-2, new head coach Matt Rhule has them playing well above expectations.
As the defense has continued to learn on the fly with a bevy of young guys learning on the job, it's primarily the offense doing the heavy lifting in Carolina. The Panthers rank 23rd in defensive DVOA and a stunning 9th in offensive DVOA, per Football Outsiders.
The question is whether they can keep this going. The Panthers' last two opponents were defensive cupcakes in Arizona and Atlanta. The Bears in Week 6, 1st in passing and 10th in rushing success rate allowed, will be their first big test in weeks.
Chicago's All-Star edge rusher Khalil Mack is coming off the type of take-over-a-game outing we expect of a potential future Hall of Famer. He legitimately tossed around Tampa Bay's offensive tackles on the way to frustrating Tom Brady. Carolina's offensive tackle duo of the underrated Taylor Moton and Russell Okung (when healthy) has played better than expected this year.
However, offensive coordinator Joe Brady is doing an excellent job scheming around an average line. Teddy Bridgewater's 2.6-second time to throw is the sixth-fastest in the league. It's a big reason why Teddy leads the NFL in completion rate (73.4 percent) but he's also maximizing the open windows created in the offense. His completion rate is 3.5 percentage points above expectation, per Next Gen Stats. The windows schemed up and the accuracy of Bridgewater is crucial to both Mike Davis and Robby Anderson ranking No. 2 and 3 in yards after the catch among all pass-catchers.
All of these metrics go to show that the execution and design of this offense are good enough to survive tougher defensive matchups.
Sure, we're lowering our expectations from the point totals put up by Bridgewater and the receivers in Week 5. But this scoring unit can still keep their floor afloat against Chicago. Then, it's right back to playing defenses like Atlanta, New Orleans, Detroit, and Minnesota in four of their next six games before the bye week.
5 - Is this Philip Rivers' last stand?
Sure, it may be a bit dramatic to call anything a "last stand" considering the Colts are 3-2. However, if Tennessee drops another loss on a 1-4 Houston team to go to 5-0, Indianapolis will quickly find themselves out of striking distance for the AFC South title.
The Colts don't just need to win in Week 6, they need their starting quarterback to show he can be the reason they win.
On a throw-by-throw basis, Philip Rivers hasn't been a nightmare. If you look at some metrics, he's been doggone good (to put it in Rivers' language). He ranks 12th in EPA per play, 10th in success rate, and has the fifth-best completion percentage over expectation by Next Gen Stats' metrics.
The problem is that they've largely won in the first quarter of the season because of their defense. And in both of the Colts' losses, the game slipped away because he threw them out of it.
Again, it's not that Rivers looks completely washed up. He's just made horrific decisions that have straight-up cost the Colts games. You really can't get much worse than the pick-six he threw against the Browns. It was a terrible choice to throw the ball and it fluttered like a butterfly caught in a gust when it left his hand.
He wasn't brought in to be this type of quarterback, the guy to lose them games. They could have saved the $25 million and just lost games because of Jacoby Brissett.
Rivers has always been this guy. He's always played fast and loose late in games and made some questionable decisions. Now, when he tries to cash those checks, his arm is just going to bounce them.
Rivers needs a strong performance against the 1-3-1 Bengals to change the narrative and show he can shoulder some of the weight on offense, If not, Indianapolis is going to sit a .500 team already forced into a gut-check amid a season in which they planned to make a title run.
If Rivers is a net-negative here, then I'm not sure what there is left to like about Indy's chances.
Listen to the Yahoo Fantasy Football Forecast

Should you block ads? Adblocker
Read this on Yahoo Sports
Others are reading