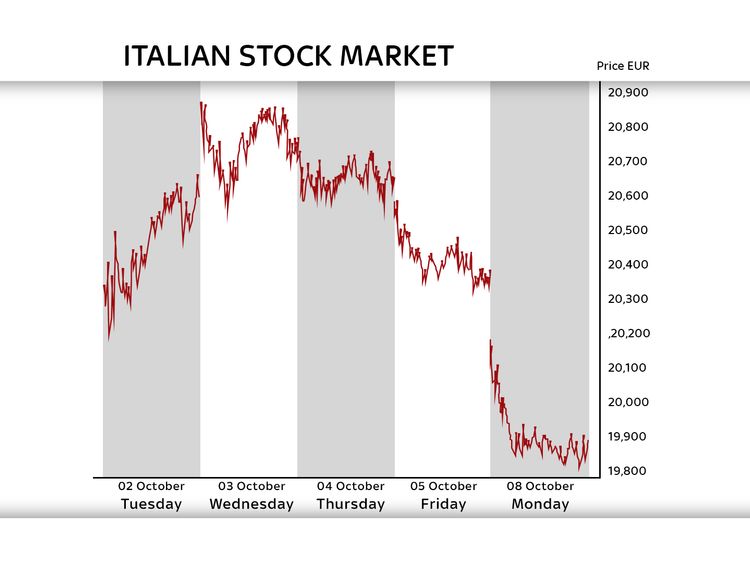 Italian shares and bonds have suffered a sharp sell-off as investors worried about a deepening spat between Rome and the European Union over the country's budget.
The euro was also under pressure, reaching a seven-week low against the US dollar, after Italy's deputy prime minister Matteo Salvini called EU leaders "enemies of Europe".
In Milan, the FTSE MIB was down by 2.4% at its weakest level for a year and a half.
Meanwhile yields on ten-year Italian bonds - parcels of government debt - rose to a four and a half year high, effectively making it more expensive for Rome to borrow money.
The European Commission has told Italy it is concerned about its budget deficit plans for the next three years breaching European rules on government borrowing.
But Rome insisted on Saturday that it would not retreat from its spending strategy.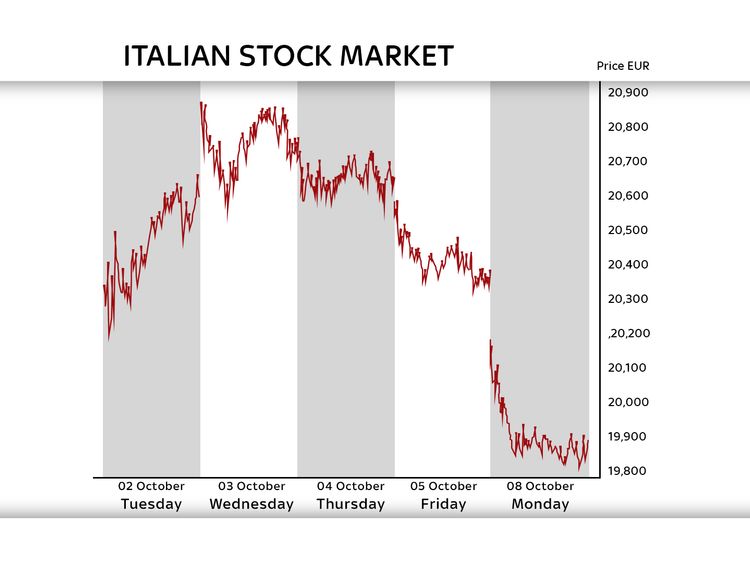 At a news conference on Monday, Mr Salvini criticised European Commission President Jean-Claude Juncker and European Commissioner Pierre Moscovici.
He said: "The enemies of Europe are those sealed in the bunker of Brussels.
"It's Juncker and Moscovici who have brought fear and job insecurity to Europe."
Marc Chandler, chief market strategist at Bannockburn Global Forex in New York, said: "This confrontation is set to escalate, and this is hurting Italian assets."
Antoine Bouvet, strategist at Mizuho, said: "It appears the market is jumping to the conclusion that the European Commission will take a hardline stance when Italy submits its budget."
Markets elsewhere were also lower, with London's FTSE 100 Index losing more than 1% to end on its lowest closing level since April.
France's Cac 40 and Germany's Dax were in the red too, as global market sentiment also focused on worries about China.
That was after a weekend move by Beijing to try to spur more lending failed to ease concerns about growth as the world's second biggest economy faces a burgeoning trade war with the US.
The pound edged lower as well, slipping close to $1.30 against the US dollar as recent gains on optimism about a Brexit deal faded.

Should you block ads? Adblocker
Read this on Sky News
Others are reading