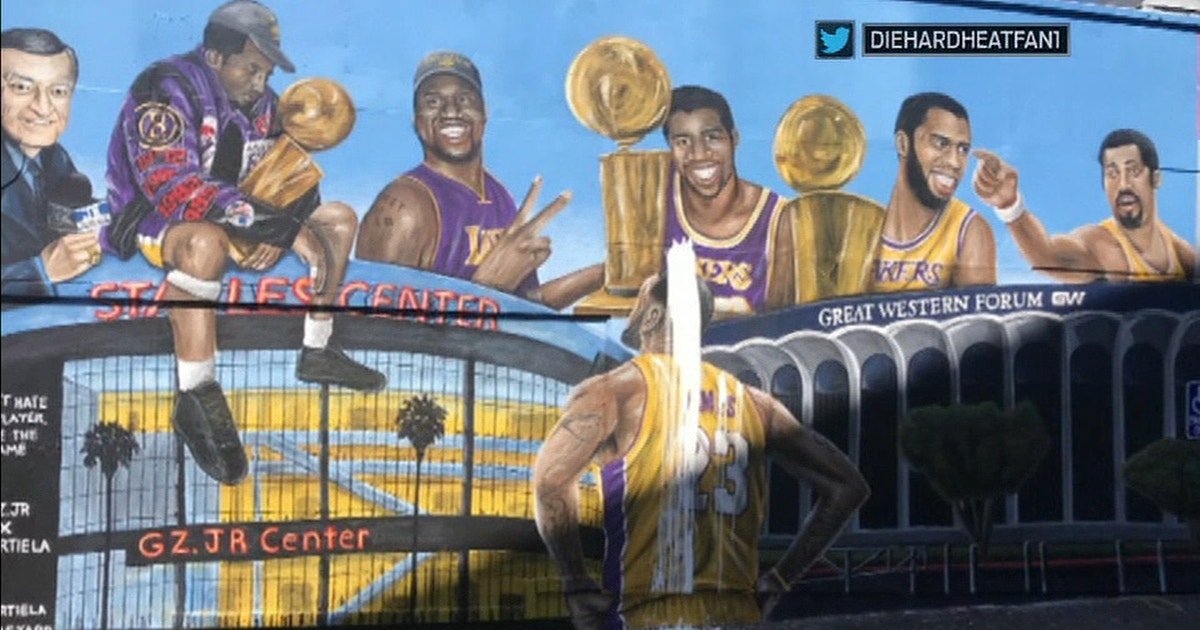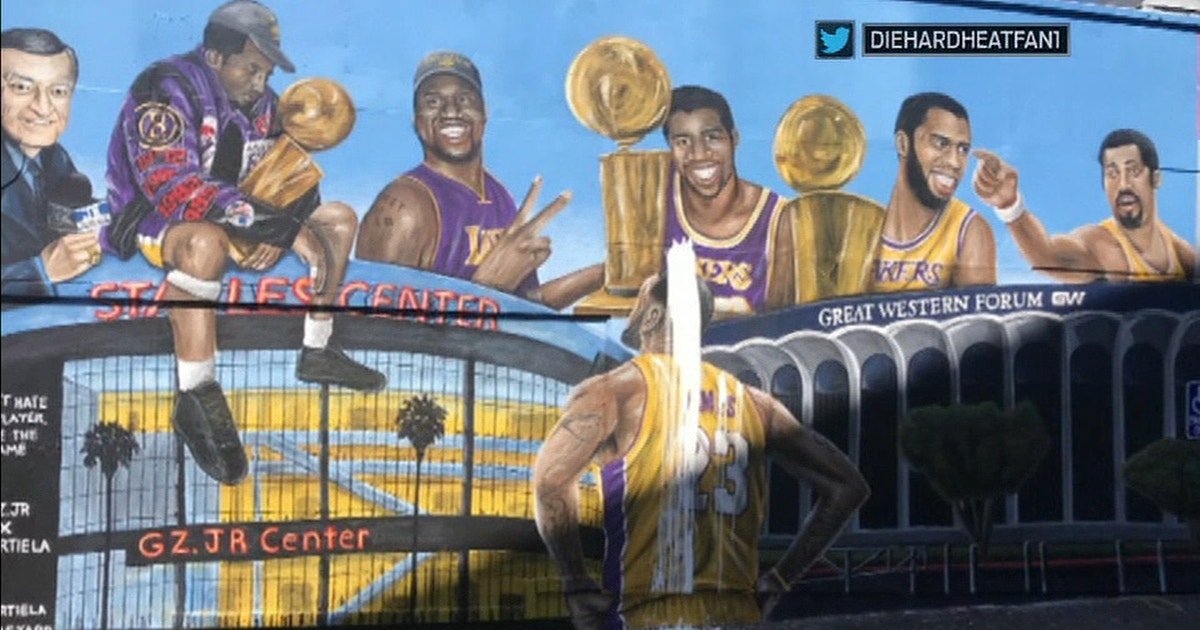 - This doesn't surprise me, because when LeBron was making his decision, and we spent a lot of time talking about where he should go, one of the things I said that was in the pros and cons category in my eyes, a con with him going to the Lakers is there is a segment of fans in Los Angeles nationwide, but it applies in Los Angeles, who are not Laker fans. They are Kobe Bryant fans. They are nothing but Kobe Bryant fans. They are fine that the Lakers have been bad since Kobe left, that they are-- and that group of people are the biggest LeBron James critics on the internet, in basketball, Twitter, wherever you go.
Those people do not like LeBron and do not want the Lakers to succeed with LeBron because they're not fans of the Lakers. They're-- they're part of this Kobe Bryant cult. Like, Kobe didn't ask for this. They just became this. And so it doesn't matter how nice the mural is. It doesn't matter that he's looking up at Kobe, which is laughable. It doesn't matter, any of that. They don't want LeBron as a Laker. And they certainly don't want LeBron to succeed as a Laker. And so they're going to continue doing this idiocy.
- The only way LeBron gets the last laugh is by winning championships. When he decided to go to Miami, the only way he was going to be able to get back at people was by winning. When he went back to Cleveland, people criticized him for that. Like, I didn't think there was a spot LeBron could go to that he was going to get criticized.
Now, when you go to one of the best franchises in the history of the game, Los Angeles, of course they're going to criticize. This is just another form of criticism. And it's a part of LeBron. If he signed with the Celtics, they would criticize in Toronto. You think they would have embraced him?
There is Philadelphia. Like, we think that, oh, yeah, LeBron just goes anywhere, they're going to embrace him. No, the King is here. No, they're not. In Los Angeles, there's some other little storylines, and the Kobe Bryant one is real. Kobe was facing the same thing with Magic. Magic faced the same thing with Kareem. But there are just different versions of it, because of-- the fanfare that Kobe generated in his time-- Kobe is one of my favorite players, but the fans that attract themself to Kobe, there are a different sector of basketball fans than these other sectors that we've seen for these players.
- And the difference between, like, the Kobe fans versus guys that root for Magic, whatever, or Magic-Kareem, those guys were never rivals. Like, they were never-- they weren't same era rivals. Who's the best player? Who's the-- who's the GOAT, all that stuff. Like, this is a different type of situation than a guy going-- I-- if he went to Philly, it's not like there's Dr. J fans. They're like, LeBron is going to impugn on the Doctor's legacy. There might have been fans that had rooted against him previously, but they would be excited about having the best player in the world come to their team.
And by the way, Laker fans, I'm not talking about you. I'm talking about Kobe fans. There's a difference. Laker fans, I believe, are excited and happy that the team's going to be relevant again. They've had their worst five years in the history of their franchise. And I think it's the greatest franchise in the history of the NBA. But Kobe fans are a different breed.
CRIS CARTER: The Kobe fans do just like me, all right. Just put your flag on another ship, all right. Kobe's not playing no more.
[LAUGHING]
He's not playing anymore.
- Do you think this goes away if he starts winning and helping the Lakers win?
- There's only one winning. That's a parade. That's a trophy.
JENNA WOLFE: So if he wins the trophy, gets the title, the parade, all of a sudden Kobe fans are--
- LeBron's only going to be able to get to a certain part of history, anyway, with the Lakers because their history is so sophisticated. Wilt Chamberlain, he can only get to a certain part because there's so many guys that won so much more and mean more to the Lakers history. He's not going to have that impact on the Lakers history. So he will always be a footnote as far as the Lakers are concerned.
JENNA WOLFE: They need to stop with the murals.
CRIS CARTER: They got 16 championships.
- I think the-- I think, as far as the Lakers are concerned, if they win a title with LeBron after their worst five-year stretch in the history of the franchise, he's far more than a footnote. You have the greatest player ever, as Cris would say, the second-greatest player ever, who won a championship with your team. But that-- again, that is not Kobe fans. You are asking for rational behavior from an irrational sect of people that are vandalizing murals. They're not going to be rational.
JENNA WOLFE: I was wondering what it would take for them to stop vandalizing murals. And clearly, the answer is--
- Stop painting the murals.
- --stop painting the murals.
- Yes.

Should you block ads? Adblocker
Read this on FOX Sports
Others are reading