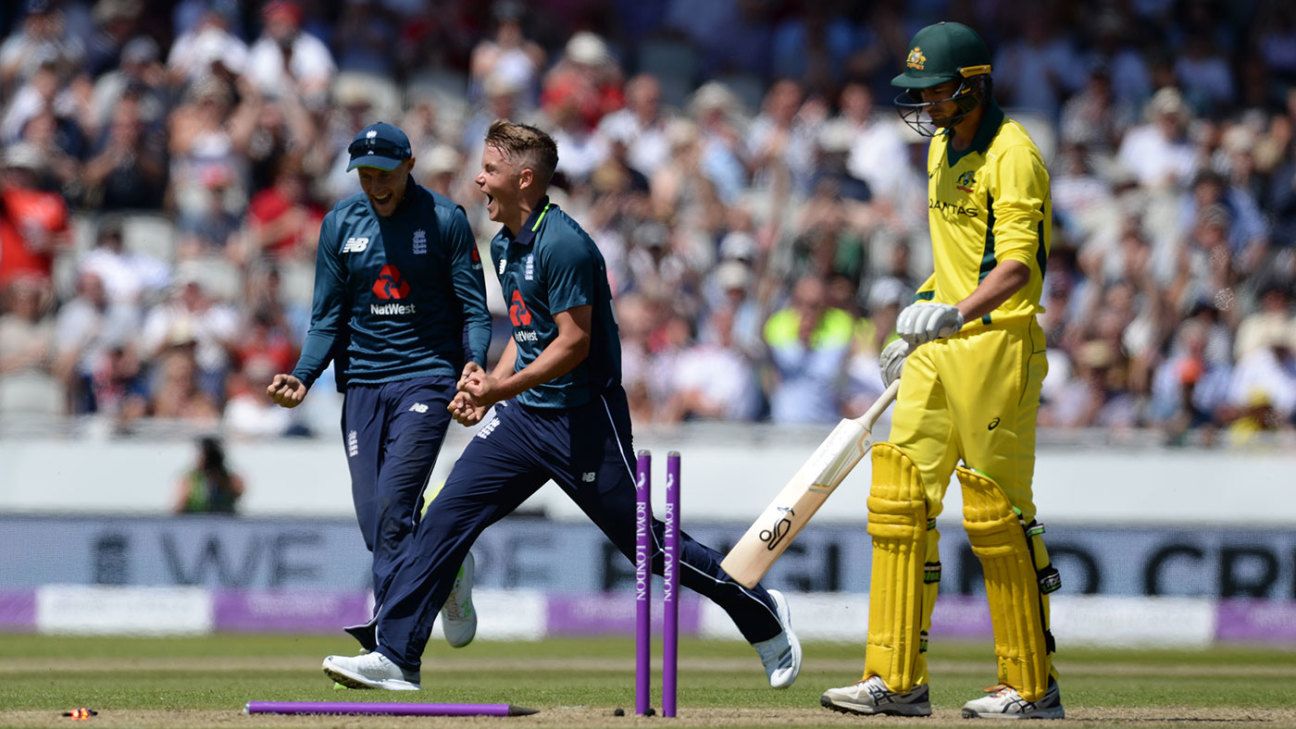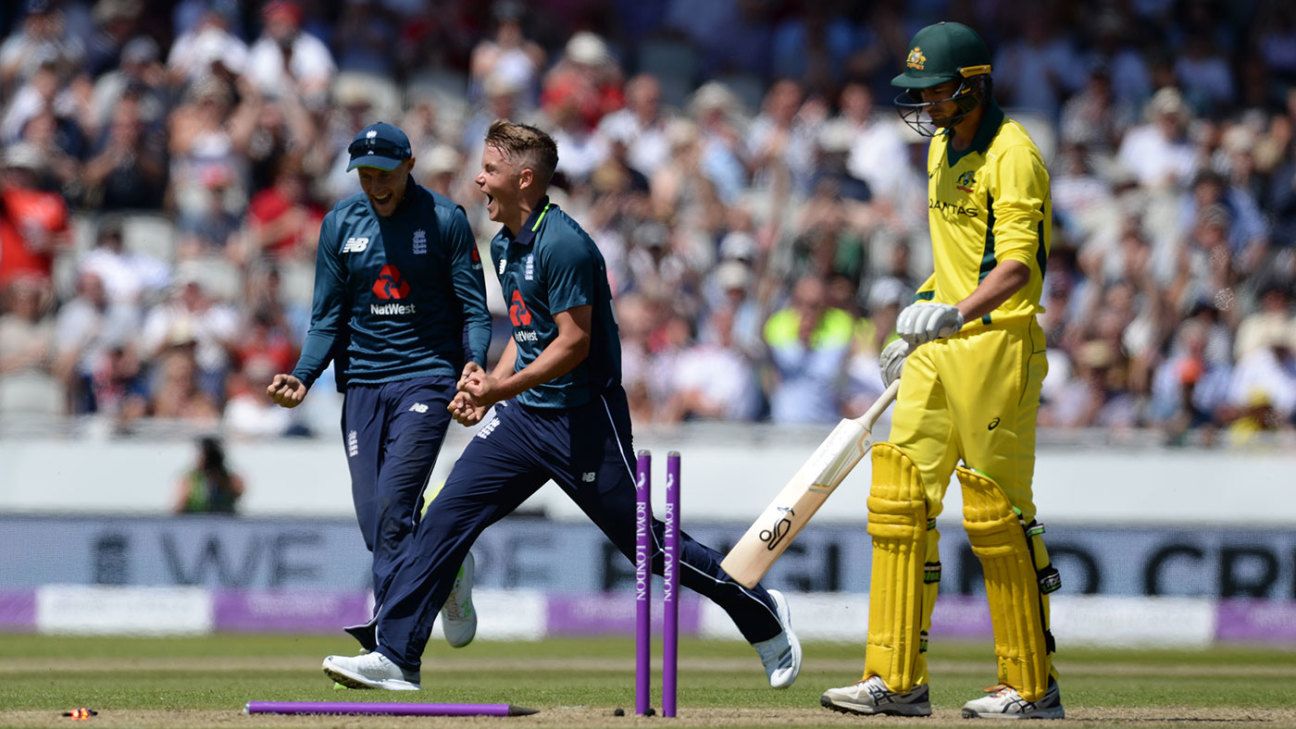 Sam Curran has been savouring the "rollercoaster" for the last few weeks after earning England debuts in Tests and ODIs and is now eyeing up a chance to challenge himself against Virat Kohli after missing out playing alongside him for Surrey.
Kohli had been due to play a month with Surrey in preparation for India's tour of England but a neck injury sustained towards the end of the IPL put paid to that. Curran had been looking forward to seeing county attacks trying to keep Kohli quiet but now he knows that demanding task might fall to him as part of England's T20I squad for the three-match series, which starts at Old Trafford on Tuesday, where Curran would complete a hat-trick of debuts in a little over month should he play.
"I was pretty excited when he was meant to be my team-mate at Surrey and I was expecting to be laughing at the other county bowlers," Curran said. "Now if I get the chance it'll be my chance to get taken down! It'll be fun.
"You want to play against these big names and test yourself, find out where you need to improve. All the Surrey boys were gutted he didn't come because we were expecting some big crowds and learning the way he trains, apparently he's a freak in the gym, so it would have been special to work with him."
India, who completed a 2-0 T20I series win over Ireland last week, should prove a much sterner challenge than Australia provided, with Kohli part of a power-packed batting line-up. England, though, have had a stellar season in the white-ball game having whitewashed Australia in the ODIs, during which they piled up a men's world-record 481, then careered to 221 in the T20I at Edgbaston.
Curran was drafted into England's ODI squad for the final two matches against Australia and, for a short while, batted alongside Jos Buttler in the early stages of his magnificent century at Old Trafford to seal the whitewash. "Bowling at Kohli is probably like what other teams think bowling at England at the moment," he said. "They are special, particularly on these wickets."
Curran overcame an expensive start on his ODI debut at Old Trafford to grab two middle-order wickets making him England's youngest one-day wicket-taker ahead of Stuart Broad and it included the sight of Ashton Agar leaving a straight delivery. "I was surprised if I'm honest. Even Jos, as soon as it left my hand, he said, this is ending badly. One of those, [Kumar Sangakkara] was saying it pitched on middle and hit middle, but I'll take it!"
His white-ball debut followed a maiden Test match against Pakistan at Headingley. He joked that in years to come he'll describe his first wicket as caught slip, rather than Shadab Khan being taken at deep midwicket, but said it was "surreal" to be part of the attack.
"It's been a pretty special couple of weeks. Wouldn't have thought it at the start of the summer, thought I'd just deal with my Surrey stuff but that's how things go, you just get on a roll and ride the rollercoaster and just try to enjoy it. Watching Jimmy and Broad on the sofa and then next thing I know I'm stood at mid-on watching while they are steaming in. It's pretty surreal. I won't forget it."
As it stands, Curran is not part of the one-day squad to face India although that may change if his brother, Tom, does not shake off a side strain which will keep him out of at least the first T20I. There could be the chance of an England Lions appearance in the four-day match against India later in July and Curran will remain in the Test mix when Ben Stokes is unavailable for the Lord's Test against India due to his trial in Bristol.
In the shorter-term, however, Curran will switch his focus back to Surrey duty and the Vitality T20 Blast. Curran is one of a host of young players making a big impression with the county who are top of the County Championship. Earlier this season Curran played alongside Ryan Patel, Amar Virdi and Ollie Pope as the first quartet of teenagers in a Championship side in the post-war era and he hopes their success can move into the T20 format.
"It's been pretty mad," he said. "I started first, then Ollie Pope came through last year in T20s, and Ryan Patel and Amar Virdi in the four-day stuff. This year Will Jacks is in. I have played with them since U-15s and some of them have played together since U-9s or below. It's pretty cool, some of the wickets Amar Virdi has got this year is amazing. He has got some serious players out when filling the shoes of Batts. Pope has three hundreds this year. He whacked it in T20s and has taken it to four-day stuff. Hopefully it carries on."

Should you block ads? Adblocker
Read this on Cricket India
Others are reading