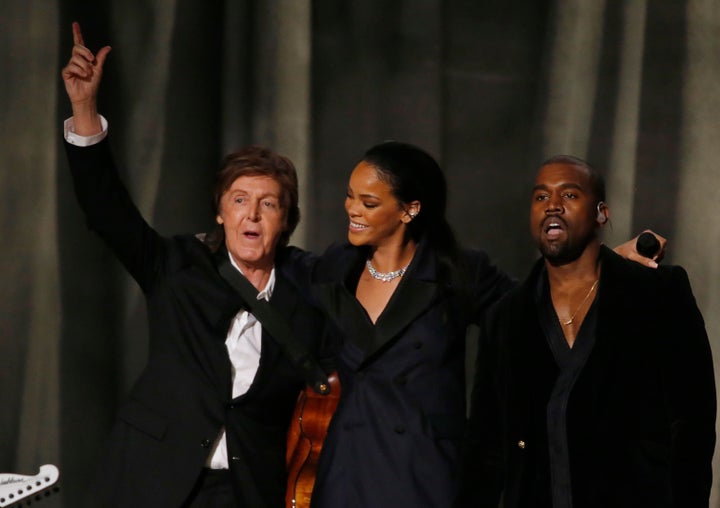 The two musical legends in their own right collaborated on a trio of songs a few years ago ― "Only One," "FourFiveSeconds" and "All Day." The process wasn't exactly harmonious, according to Blur and Gorillaz musician Damon Albarn.
During a June interview with the French outlet L'Obs, the English singer slammed West repeatedly on the matter of sampling music ― a technique the rapper has often used over the course of his career.
"I do not sample, I create music," Albarn told the publication. "Do not get me started on Kanye West. … Kanye West trapped Paul McCartney."
He went on to characterize that collaboration as "abusive" because although McCartney was credited on the tracks, his musical stylings aren't exactly apparent in the songs.
"I have a problem with this abusive collaboration. We're talking about Paul McCartney here, he's so precious! We don't hear him in the song. Kanye West only thinks about Kanye West," Albarn said. "He uses a name to get in the newspapers, to say 'McCartney is in my song.'"
"What's more, he puts McCartney in the video of the song [where he accompanies Rihanna and West on the guitar], but not in the song itself," said Albarn.
Representatives for McCartney and West did not immediately respond to HuffPost's requests for comment.
Albarn said he sent the Beatles singer a text message warning him to "be careful" when working with West.
"He didn't take it into account at all. He does what he wants, it's Paul McCartney," Albarn said of McCartney's response to his warning.
But Kanye West, he continued, "is one of those people that feeds off of other people."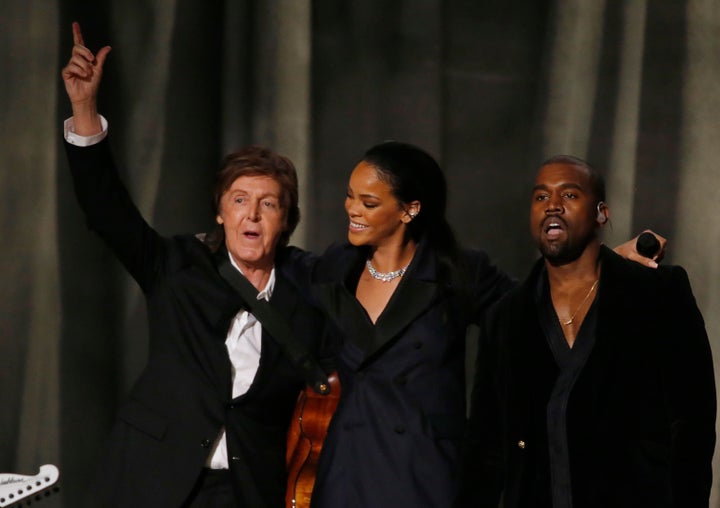 Also in June, McCartney himself weighed in on his experience working with West, revealing that he was somewhat befuddled by their differing musical processes.
When they got in the studio, he recalled the rapper spending an inordinate amount of time looking at photos of his wife, Kim Kardashian, while McCartney was left "tootling around on guitar."
"I'm thinking, 'Are we ever gonna get around to writing?!' But it turns out he was writing. That's his muse," McCartney told DIY magazine. "He was listening to this riff I was doing and obviously he knew in his mind that he could use that, so he took it, sped it up, and then somehow he got Rihanna to sing on it."

Should you block ads? Adblocker
Read this on Huffingtonpost
Others are reading