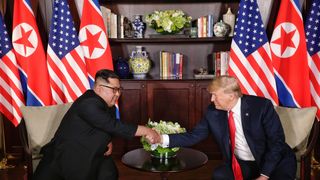 Donald Trump said he will have a "terrific relationship" with Kim Jong Un as they appeared together for the first time in Singapore.
The pair made brief remarks as they sat together before the world's media as the historic summit got under way, with the US leader insisting "we will have a terrific relationship I have no doubt".
Mr Trump said he was feeling "really great" and Mr Kim said North Korea and the US had overcome obstacles to be able to hold talks, saying it "was not easy to get here".
:: LIVE: One-on-one with Kim was 'very good' - Trump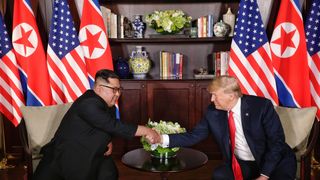 Through an interpreter, North Korea's leader said: "The road leading up to here was not that smooth. We've overcome so many obstacles which blocked our eyes and ears, dragging our feet down due to the past history, prejudices. But despite of all that, we've made it here."
Mr Trump said: "We are going to have a great discussion and I think tremendous success. We will be tremendously successful."
The two leaders shared a firm 13-second handshake when they met for the first time - exchanging a few pleasantries with each other.
:: How the Trump-Kim summit has gone so far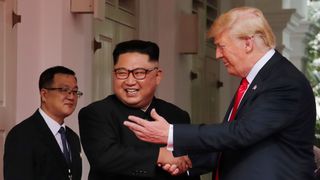 Mr Kim and Mr Trump also patted each other on each other's arms as they walked together at the five-star Capella Hotel on the resort island of Sentosa.
After briefly moving away from the media glare, Mr Kim and Mr Trump reappeared, walking together along a balcony and posing for pictures.
Speaking of his one-on-one meeting with Mr Kim, Mr Trump said it was "very, very good" and said they had an "excellent relationship".
And Mr Kim was heard telling the US president: "I think the entire world is watching this moment. Many people in the
world will think of this as a scene from a fantasy... science fiction movie."
:: Out of the dark: North Koreans told of Trump-Kim summit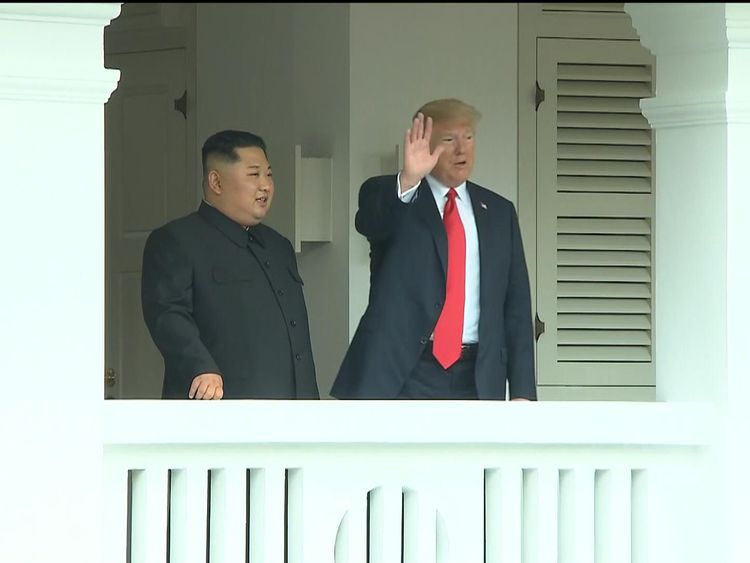 The two leaders talked alone for about 40 minutes and were joined only by interpreters.
They then proceeded to a larger meeting along with officials from their delegations.
Sitting across Mr Kim and his team at the larger meeting was the US leader, his chief of staff John Kelly, secretary of state Mike Pompeo and national security adviser John Bolton.
At the start of a meeting seeking ways to end a nuclear stand-off on the Korean peninsula, Mr Trump told the North Korean leader: "Working together we will get it taken care of... we will solve it."
:: Trump and Kim's one-on-one meeting is 'unacceptable threat to US security'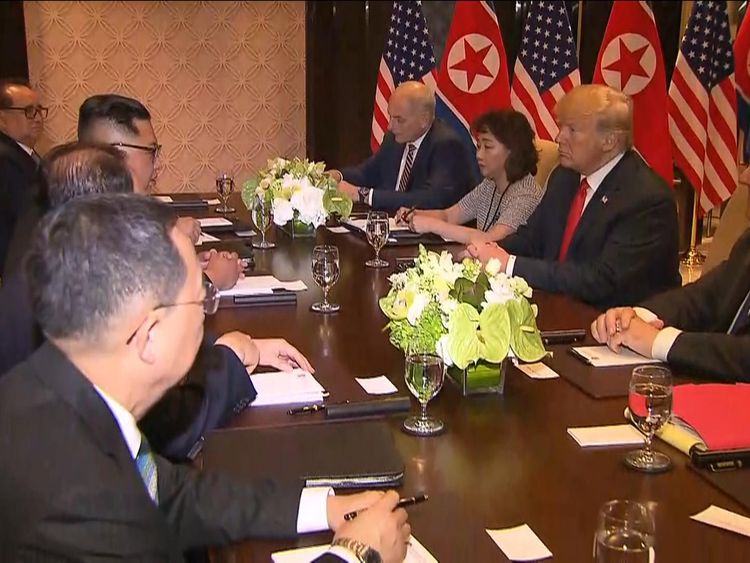 Reacting to the news of the two leaders meeting, basketball star and unlikely North Korea envoy Dennis Rodman, who is also in Singapore, said holding the summit was the right thing to do.
He told CNN: "We need the doors to be open and start fresh and make this world a better place, baby, that's it."
He also broke down in tears live on television as he spoke about the hostility he faced for previously meeting Mr Kim, who he struck up a friendship with over their love of basketball. The former NBA player visited Pyongyang five times since the North Korean leader took charge.
Before the meeting, Mr Trump predicted he might strike a deal with Mr Kim over nuclear weapons or officially bring the Korean War to an end.
However, the US leader's short stay in Singapore has raised questions over whether his ambitions have been scaled back. He is due to leave Singapore by Tuesday evening.

Should you block ads? Adblocker
Read this on Sky News
Others are reading