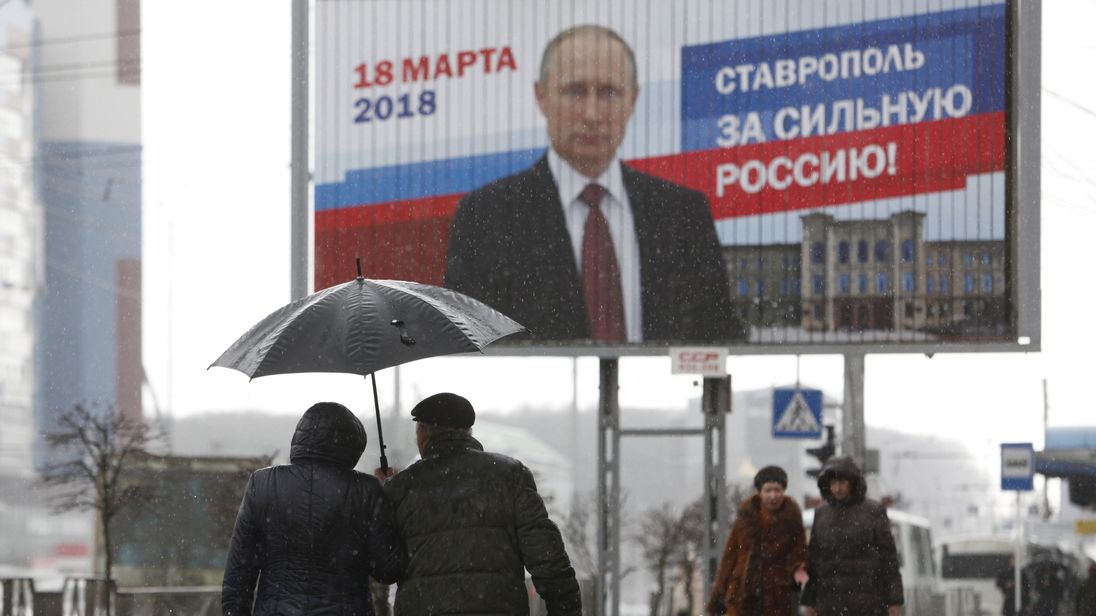 Vladimir Putin has called for political unity as he starts his fourth term as president of Russia.
After winning a landslide of 77% of the vote, Mr Putin called for his opponents to come together to focus on domestic issues and pledged to reduce the amount of money spent on the military.
Mr Putin said Russia has spent enough over the last few years on new weapons to avoid excessive pressure on the economy in the future and so he could now reduce defence spending.
Setting out his stall ahead of his fourth term in charge, he vowed not to engage in an arms race, saying: "There is no intention to speed up some kind of arms race, and just the opposite, we will develop constructive relations with all the countries of the world.
"We want and call for our partners to have a constructive dialogue, but obviously not everything depends on us. Like in love, both sides should be interested, otherwise there is no love.
"But we, from our side, will do everything to ensure that all disputes will be regulated through political-diplomatic means.
"At the same time of course, it is obvious we were and will always strive to maintain our national interests."
:: Russians unite around Putin's 'centre of power'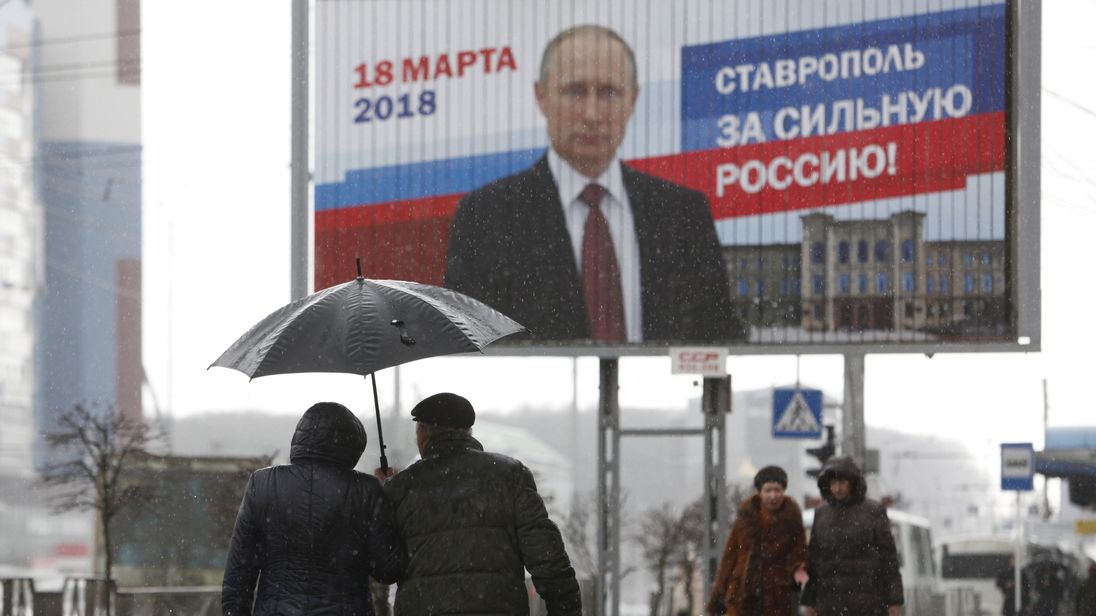 He said he wants to focus on domestic issues, including reducing the gap between the rich and the poor.
His post-victory comments came as the Organisation for Security and Co-operation in Europe (OSCE) said there was no real choice in the election, arguing restrictions on fundamental freedoms and candidate registration resulted in a lack of genuine competition.
OSCE special co-ordinator Georg Link said: "A choice, or choice without a real competition - as we have seen in this election, unfortunately, is not a real choice.
"Where the legal framework restricts many fundamental freedoms and the outcome is not in doubt elections almost lose their purpose of empowering people to choose their leaders.
"Most candidates publicly expressed their certainty that the incumbent president would prevail in the election. With many of the candidates themselves stating that they did not expect to win, the election lacked genuine competition."
The OSCE also noted his opponents faced off in televised debates that Mr Putin sat out, but that he still dominated the media coverage.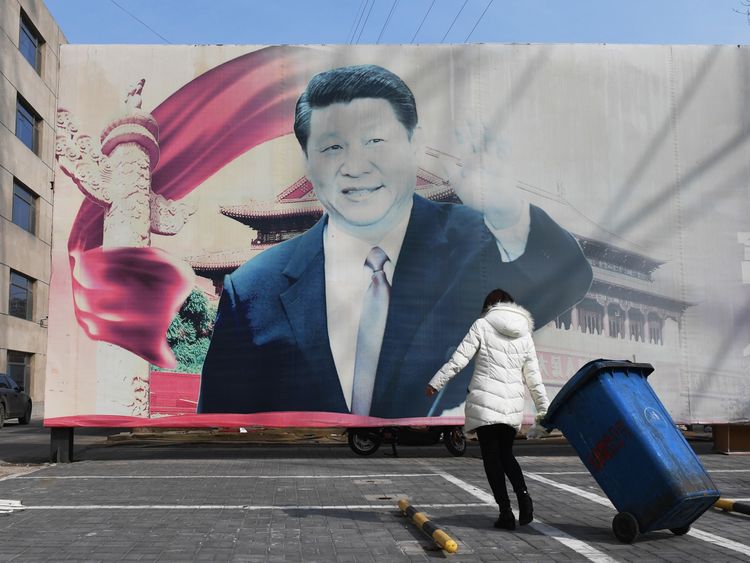 Congratulatory messages from leaders around the world came in throughout the day on Monday, though some were laced with warning.
Xi Jinping, who was unanimously re-appointed president in China, offered his congratulations.
In a message to Mr Putin he said: "Currently, the China-Russia comprehensive strategic co-operative partnership is at the best level in history, which sets an example for building a new type of international relations.
"China is willing to work with Russia to keep promoting China-Russia relations to a higher level."
Mr Putin also received congratulatory messages from Shinzo Abe, Iranian President Hassan Rouhani, and Egyptian President Abdel Fattah al-Sisi.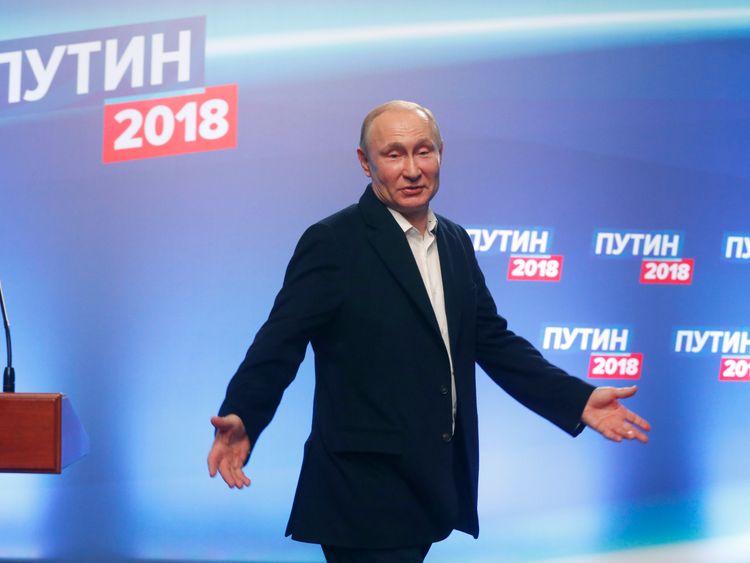 French leader Emmanuel Macron telephoned Mr Putin to wish Russia and its people success, and the Russian leader is understood to have responded by denying his country's involvement in the poisoning of Sergei Skripal and his daughter Yulia.
Mr Macron steered clear of congratulating him, in a carefully worded message.
German Chancellor Angela Merkel was set to congratulate Mr Putin, but said her message would raise "challenges" about relations with Russia.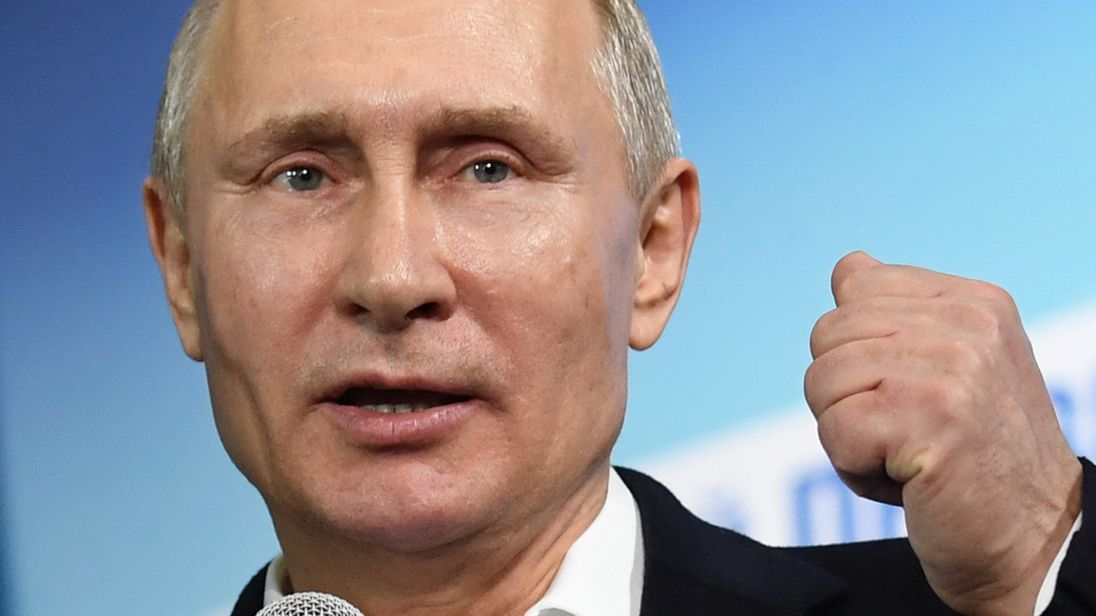 German Foreign Minister Heiko Maas said: "We certainly cannot talk in all respects about a fair political contest as we know it."
Banned leader of the opposition Alexey Navalny posted an article in which he explained the polls and predictions long showed Mr Putin would win with around 76% of the vote.
He said: "These 'elections' are one of the episodes of the struggle. We understood that this would be so, and concentrated on building the structure.
"And they created it, despite the monstrous pressure. We became stronger in the last year, but not Putin."

Should you block ads? Adblocker
Read this on Sky News
Others are reading